Takeaway
Talking about sports with patients and colleagues is one fun way to build interpersonal connections.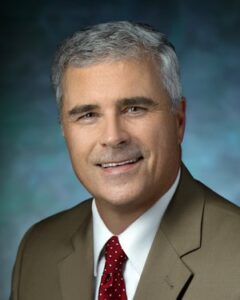 13 seconds. After scoring the late go-ahead touchdown, that's all the time my favorite football team, the Buffalo Bills, needed to hold off Kansas City to advance in the playoffs. 
While I now live and work in Maryland, I grew up in Buffalo, and remain a die-hard fan of the Bills. And it's no secret to the staff and patients in the clinic. I talk about the team, sing the fight songs, and wear Bills gear – mask, lanyard, socks, and at times even a jersey. I was especially talkative about this playoff game the week before. Maybe this year the Bills would finally win the Super Bowl! 
But no. Kansas City needed only those 13 seconds to move down the field, kick a field goal to tie the game, and then win it in overtime. All the Bills fans, including myself, were stunned and disappointed. Again.  
Sigh. Still no championship. Oh well. Time to prepare for the upcoming work week. I had to move on. 
Almost immediately, however, the messages of condolences and concern came in. "Sorry Dr. Schaefer," read the medical student's message in our advisee group chat. Another posted a sad face emoji. The next morning, as I settled into the clinic workroom, I overheard one of the nurses asking another: "Is Dr. Schaefer ok?" And when I went back to my office, another physician had left a sticky note on my desk: "Richard, my sympathies on the game yesterday!"   
Even the patients expressed their support. "I was thinking about you after that game," said the longtime patient with knee arthritis who came in for a cortisone injection. "Tough loss," offered another patient. 
While I was disappointed in the outcome of the game, I was touched by the comments of my colleagues and patients, many of whom are fans of the rival Baltimore Ravens. I don't think they will be as concerned about my feelings when my Bills come to town this season to play against their Ravens. That will be a fun week in the clinic! But no matter which team we cheer for, sports can help us connect with others in a lighthearted manner.  
Acknowledgment: The author/Bills fan appreciated the support from colleagues Emily Rodriguez, Erin Chen, Andrew Fraser, Nina Wortman, Andrea Brooks, Donna Magid, and others. 
This piece expresses the views solely of the author. It does not necessarily represent the views of any organization, including Johns Hopkins Medicine.