Takeaway
Art can be healing. With this in mind, I brought together the community to paint an uplifting mural.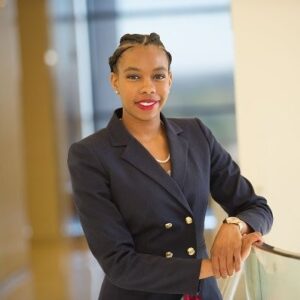 Inspiration 
The Brown Girl Narratives mural was created to capture the essence of Black women in the community and elevate their shared stories of what it meant to be a Black woman, residing in the former capital of the confederacy in Richmond, Virginia. There are so many negative images of Black women on television and media outlets as a whole, so I thought it was important to show the community who and what Black women represent. It was important for the mural to tell their story, an uplifting one of determination and beauty that comes in all shades, shapes, and sizes. At times, it was also one riddled with racism, body objectification, ridicule, and systemic inequities. With healing and hope in mind, I decided to focus the mural on the positive aspects of being a Black woman, while the deleterious experiences that were shared were used for a separate project—a discussion, paint, and sip.  
Process 
The process of painting the mural involved partnering with Auz Miles, an amazing muralist whose work focuses on Black women, talking with Black women, hosting a photo shoot to capture a variety of different Black women, and finally, using art as a form of healing, we brought the community together to help paint the picture both literally and figuratively.  
Meaning 
Representation matters. Richmond is a mural city, however, at the time of conceptualizing the Brown Girl Narratives mural, there were very few murals in the city depicting Black women. Since the creation of this mural, the increase in the untimely murders of so many Black men and women, and the subsequent uprising, many more murals featuring Black and Brown individuals grace the city of Richmond. Importantly, while the project focused on the lived experiences of Black women, I was intentional about using the mural as a mechanism to uplift the community and encourage conversations with all community members regardless of age, gender, race/ethnicity, which was evident in the diverse turnout for the community paint day. 
This piece expresses the views solely of the author. It does not necessarily represent the views of any organization, including Johns Hopkins Medicine.