Takeaway
Sitting with clinical uncertainty is challenging. Embracing this ambiguity can lead to new understandings about our patients and their healing journeys.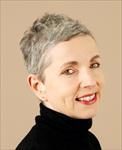 This is a collage I made from "MaskLand." Yes, it was lovely, but I cut it up. Why? During the early days of the pandemic, it felt like life as we knew it was upended, rearranged, juxtaposed into something familiar but unknown. Cutting up a painting takes courage, requires a leap of faith that something better will come and that a new vision will be revealed. The collage was born of uncertainty that led to something new, different, and beautiful. 
This piece expresses the views solely of the author. It does not necessarily represent the views of any organization, including Johns Hopkins Medicine.