Takeaway
Promoting a culture of thinking out loud can demystify the process of clinical reasoning and make it accessible to all learners.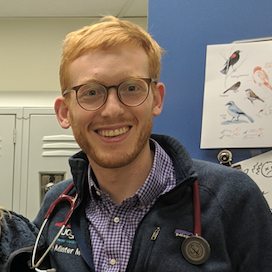 In Episode 38 of "The Clinical Problem Solvers," Luis Rubio, MD, presented a fascinating unknown case to legendary educator and former UCSF internal medicine residency program director, Harry Hollander, MD.
Sudden-onset pain
The case started with a 66-year-old man who presented with sudden-onset abdominal pain while eating. Dr. Hollander quickly honed in on the hyperacute nature of this patient's symptoms, formulating an early hypothesis that this may be due to a vascular etiology. He searched the patient's history for supporting evidence – diabetes, hypertension, and hyperlipidemia . . . check.
"Okay . . . so interesting . . ."
Those were the first words Dr. Hollander uttered after learning about the imaging findings. The CTA demonstrated severe narrowing of the celiac artery and its branches, a rather unanticipated development.
Described in Eddy & Clantons seminal 1982 article about clinical reasoning, the "pivot point" is a specific clinical finding on which to frame and guide one's differential diagnosis. The "Hollander correlate" (my words, not his) is that such a finding should be both (1) clearly abnormal, and (2) compatible with the patient's initial presenting history.
It's about the journey
Dr. Hollander's discussion was a masterclass, touching on everything from abdominal vasculitis to marantic endocarditis. As he fluently contemplated the various diagnostic possibilities, he always returned to the celiac artery stenosis, something he felt he still lacked an adequate explanation for.
For his final diagnosis, he chose marantic endocarditis related to the patient's prior history of prostate cancer, at the same time acknowledging his uncertainty with this theory. Ultimately, the patient's presentation was felt to be consistent with segmental arterial mediolysis, an extremely rare non-inflammatory vasculopathy that has a predilection for the celiac arterial trunk.
Reasoning made explicit – "looking under the hood"
As lifelong learners, we rely on those around us to inform our approaches to various clinical scenarios. This sense of "growing together" is part of what makes medical education such a fascinating and rewarding field.
Throughout Season 1 of "The Clinical Problem Solvers," we've had the opportunity to listen to clinicians with all levels of experience reason their way through unknown cases, picking up innumerable pearls and teaching points along the way. We hope that by promoting a culture of "thinking out loud," we can demystify the process of clinical reasoning and make it accessible to all learners.