Takeaway
Dogs see the person in front of them only as people and not as patients.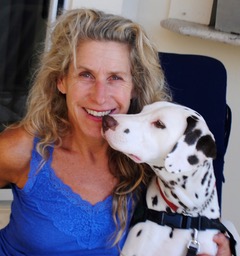 A visit from Olive
We asked if we could come in the patient's room—a man, alone in his hospital bed.
Would you like a visit from a therapy dog?
With a "yes," we entered, and placed a brown-spotted Dalmatian, Olive, on a sheet in a bed at the patient's side. He stroked her soft fur and was quiet. To our surprise, the man's tears started to flow, and he buried his head in Olive's neck and sobbed.
He was embarrassed, he explained, and surprised by the sudden rush of emotion that overcame him by having a dog visit, and then explained, "I've been in the ICU for 15 days and didn't think I'd come out alive…this is the first living thing I've seen in a long time…and I can't wait to get home to my dogs." Olive licked the tears away and then there was laughter, lots of laughter.
For the over 12 years that Johns Hopkins Hospital has welcomed Therapy Dog visits, our more than 20 pet therapy teams have visited countless numbers of patients from the pediatric units to the ICUs and have witnessed beautiful moments that have, at times, as Handlers, taken our breath away.
A child in the PICU speaks for the first time since being in the hospital, a patient in the neurology unit smiles and offers that the dog visit made their day, a patient offers that someday, when they're feeling better, they'd like their dog to become a therapy dog and serve others.
Helping patients feel whole again
When Olive walks in, life walks in with her. We witness countless moments of unexpected magic—patients come alive sharing stories of their dog (or cat) who is waiting at home, or from long ago—their mischief, their favorite food, silly nicknames, affection for squeaky toys, and most of all, the love their animals bring, which makes them feel whole.
Therapy dogs like Olive, Grendel, Molly, Badger, Milo, Mozart, Kodie, Poppy, Tank, and Siren—help patients come back to themselves. They help them heal. Dogs are a reminder of the world beyond the hospital's walls.
Seven things doctors can learn from therapy dogs
1.) Dogs are curious about people and their immediate environment. Be curious. Ask questions. Listen.
2.) Dogs have an inner mechanism for self-calming—the equivalent of taking a deep breath—called "calming signals." When a dog is stressed, it has a unique ability to self-calm, and within seconds, be fully present for others. Find and practice a self-calming practice that works best for you.
3.) Dogs read emotional cues in humans and know how to calm those in need. Tune in to your patient's emotional status for a deeper human connection.
4.) Dogs are tactile—use a professional touch if and when appropriate.
5.) Dogs always look you straight in the eye. Eye contact is a powerful way to connect with your patient.
6.) Dogs are always present and live in the moment. Use your breath, or whatever method works best for you, to return to the present moment.
7.) Dogs see the person in front of them only as people and not as patients.
If you or a friend are interested in becoming a Pet Therapy team, please email Stephanie Cooper Greenberg, dogooddogs@gmail.com