Takeaway
There will always be both accolades and critiques that come your way. Neither define who you are. Nourishing your whole self can maintain balance so that you can flourish professionally and personally.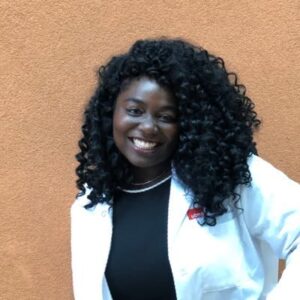 "'Tell me about yourself . . but don't mention anything on your CV.' Practice this daily. This is how you water and honor who you are outside of this profession." -Adaobi Ikpeze
I love spoken word and poetry lounges. I love candlelit showers after long walks on the beach. I collect soaps and prefer different scents at different times of the day. I'm in love with my family. I drive with all four windows down. I interrupt people when they talk sometimes, but I'm working on it. I'm a deep-toned Black woman with a loud voice and strong opinions. I'm sensitive. I love soul-sharing and emotional deep-dives.
We spend years dreaming about getting into medical school. We invest thousands of dollars into preparing and applying, we join clubs and organizations around medical themes, we miss fun events to study instead, and we absorb the toxic culture of competition. Pursuing medicine is financially expensive, but it's also spiritually expensive.
Very quickly we go from college kids surrounded by students pursuing different journeys, to medical students surrounded by intense achievers who center their lives around their next academic step. Being around so many people with similar interests and goals is motivating, but it does open up the door for collective comparison and insecurity.
My first few months of medical school, I felt stifled by only being seen as a medical student. I have other passions, ideas, and dreams. Being a doctor is one of them. I'm grateful for the opportunity to be following my heart and be a part of the evolution of medicine. I'm grateful that I can survive and thrive in an environment that wasn't made for me. I know I'm making my inner-child who wanted to be a doctor so proud. But, I must often remind myself, "My name is Kayla and I'm a medical student, I'm NOT a medical student who happens to be named Kayla." This affirmation reminds me that I'm not my academic accomplishments. I'm excellent whether or not I pass the exam. I'm intelligent whether or not my patient presentation is strong, or I answer the question correctly in front of the group.
No matter the stage of our career, we all need to be intentional about watering ourselves emotionally, mentally, and spiritually. The same energy and intensity that we use to build our CVs should go towards our self-actualization. Here's a few suggestions for how to do that:
1. Passion projects
I'm really interested in women's health, self-compassion, and racial equity. Advocacy gives me perspective and fire. Not only do I use my passion projects as a way to give myself a creative outlet in such a scientific space, but it's a way to connect to topics that inspire me, and will make me a better healer and a more motivated student. Make time to pursue your passion projects every week.
2. Non-healthcare friends
My college friends can only listen to five minutes about medicine. They're more interested in how I'm feeling and what I'm learning about myself. If you find you don't have much to say outside of academics, cultivate your interests and relationships outside of medicine.
3. Critique
Medical school is centered around constant feedback. Separate yourself from it. Your evaluations, both good and bad, don't define your intelligence, value, or purpose.
4. Gratitude
For years I prayed to be where I am today. Whether you keep a gratitude journal, tell loved ones you're grateful for them, or say affirmations to yourself in the shower, express your gratitude and celebrate your WHOLE self.