Takeaway
As a guide on this journey with our patients to health, we must serve as an example of hope, understanding, and direction.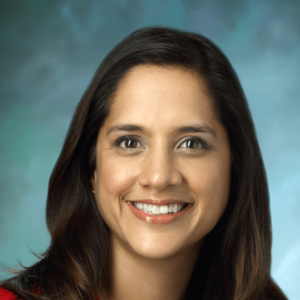 Recognizing the many challenges patients face
Medicine as a science is complicated. For many, navigating the health care system is a daunting task. My approach to patient care recognizes the significant and often overwhelming challenges patients and families experience, offering them a guide and foundation on their journey to health. To further this patient and family-centric mission, I've immersed myself in activities which support patient experience and systems innovation not only in the exam room but also with a systems level approach.
Prior to a patient's visit, even getting to the clinic door can be difficult. Knowing who and which type of doctor to see, getting a timely appointment, figuring out the check-in kiosk, getting a referral and outside records—for all of these steps the patient experience requires our consideration as clinicians. I believe we have to advocate for systems that facilitate getting the right patient to the right physician in a seamless manner for quality care to happen.
Treating patients the way I wish to be treated
During the visit, my approach to patient care is quite traditional. I treat patients the way I wish to be treated. Technology cannot replace empathy. Knowing the correct treatment for a patient doesn't matter if you don't understand their concerns through the simple act of listening. Modelling this behavior and including my trainees in this relationship empowers my patients to be teachers and advocates for their own health.
Giving each patient a personalized approach
In closing a visit, I harness all the resources that practicing at this time at Hopkins has afforded us. This means ensuring that all parties (the patient, their family, the trainees and staff) understand the plan and expectations, whether that be a referral to another provider, expected timeline for improvement in symptoms, use of medications, and follow up method and timeframes. I harness the newest technologies for more standard information, tailored to my patient's needs. I will use Mychart to follow up with patients that can't easily be transported back for a follow-up visit, or provide paper handouts with evidence-based information when patients don't have access to online resources, or even anticipate what patients may look up at home so I may dispel their anxieties. This personalized approach is how I care for patients.
Clinical practice has many intricacies that can leave a vulnerable patient lost in the system, yet as a guide on this journey with our patients we must serve as an example of hope, understanding, and direction.