Takeaway
Read Dr. Nelson's clinical mission statement, reminding us that "no matter what, you're not just treating the patient, you're treating the whole family."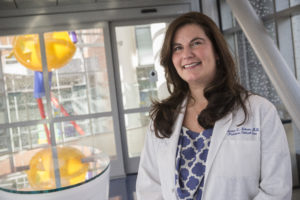 I remember years ago thinking maybe I shouldn't chose medicine as a career, because I thought I would get 'too attached' to my patients. My dad, as a patient in the healthcare system, advised me that there weren't enough compassionate doctors in practice, and that compassion and empathy are extremely important components to any relationship and were vital for healing. I'll always remember that encouragement and advice from the person I've always looked up to as my hero.
As I continued in my medical training, I found myself drawn to pediatric patients and loved working with their families just as much. To me, pediatrics is a package deal—you have to develop a relationship with the child and their parents, siblings, and grandparents. Parents make decisions for their children and you're responsible for making sure they understand the situation regarding potential benefits and harms associated with care. I found that I could easily empathize and share in their glory as well as their grief, and that many of these experiences furthered my love of life and how precious and short life can be.
The Art of Healing
During the early part of my career as an attending, I was asked to be a facilitator for Healer's Art, "a program of education and support for health professionals who aspire to bring their hearts into their work and are dedicated to practicing a medicine of service, human connection and compassionate healing." Dr. Rachel Remen is the physician who developed this program and her work continues to inspire me. This program is now found in over 70 medical schools across the country and I felt very fortunate to be asked to be an instructor in the Hopkins medical school Healer's Art program.
Every time a child is admitted to the pediatric ICU, I ask myself—
What would I want if my family member was in that bed?
I strive to always remember that he or she is someone's child, sibling, niece or nephew, grandchild or best friend who is now critically ill with any number of diagnoses we would never want for our own families or friends. I realize that these family members will need to trust me within about 60 seconds of our meeting, so I consider it a huge responsibility to make sure they know I'm there to help their child, help them, and try my absolute best each and every time to make their child better.
It's therefore my responsibility to continually read the literature and educate myself and others in order to ensure we are providing the best medical care. There's so much great bench research that is done, but it's vital for providers to be aware of and understand the applications of the science so such breakthroughs can be appropriately applied at the bedside—education is key to successful implementation.
So, when critical illness is extreme or 'never been encountered before,' I always try to envision possibilities for these children that might not otherwise survive, and go back to the literature or phone colleagues to get additional points of views or suggestions. We must always keep our minds open to advances in our ever-changing medical world.
Alone we can do so little; together we can do so much.
For those unfortunate times when medicine cannot cure a child and that child dies, it's also vital for this
time to be as peaceful as possible with a tremendous amount of love and support around the child and the family. No matter what, you're not just treating the patient, you're treating the whole family.
One important crucial additional point is that it's never the physician alone that bears this responsibility for taking care of a patient. All providers involved with the child and his or her family must work effectively together to ensure excellent patient care and communication.
To quote Helen Keller, "alone we can do so little; together we can do so much."