Takeaway
Arts-based medical education improves fundamental clinical skills, including ambiguity tolerance, reflective ability, bias awareness, and empathy. It can also enhance the well-being of healthcare professionals.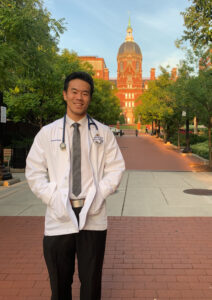 "Find a work of art that inspires you," my prompt read.
Making my way through the Cone Collection at the Baltimore Museum of Art, I kept my eyes peeled for a portrait or sculpture that evoked such a feeling. I was joined by my peers—first- and second-year medical students at Johns Hopkins—each of whom had their own preselected objectives: "Find an object that, for you, embodies pure joy," "Find an image of a person you would like to meet," and so on.
"Interior on a Grey Day"
I settled on a dusky-yellow painting called "Interior on a Grey Day, Vaucresson" (1921-22) by the French artist Edouard Vuillard. The piece portrayed an elderly woman in her home, holding a piece of garment above her bed. She was alone, and the subdued colors of the distemper instilled a rather dreary, ruminative tenor to the scene. I wondered how this piece, out of the many other more glamorous and evocative exhibits in the collection, captured my attention. I quickly realized it was because the woman reminded me of my mother—modest and unassuming, but robust in her character, dignity, diligence, and love for family. The static work of art did little to communicate these features, yet its invitation to personal interpretation and application—characteristic generally of art—led me to think about the inspiration of my mother. Only after I shared my reflections with my group did I read the exhibit label: "… This intimate interior depicts Vuillard's mother … he captures her with grace and dignity in a still and contemplative moment."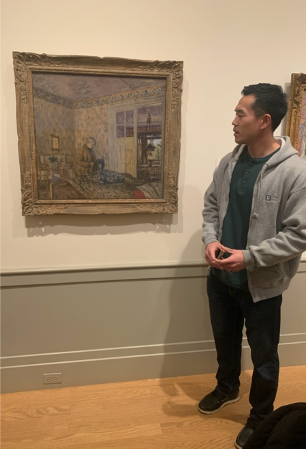 The Personal Responses Tour
The students in our group, led by Dr. Margaret "Meg" Chisolm and Dr. Susan Lehmann, faculty psychiatrists at the School of Medicine, were participating in an art museum-based educational experience called the Personal Responses Tour (PRT). Developed by Ray Williams (now Director of Education at the Blanton Museum of Art in Austin, Texas) in the 1990s, the PRT is a reflection exercise that employs images in art museums as reflective triggers to "provide learners with a safe and effective avenue to approach issues of meaning, explore sensitive or 'taboo' topics, or discuss complex emotional responses."
Participants randomly select a prompt intended to invite an emotional response to some meaningful aspect of human life. They are asked to identify and spend some time with a work of art that resonates with them in light of the prompt, and then to share their reflections with the group. Through this process of exploration and contemplation, learners have the opportunity to engage their curiosities, hone their observational skills, and deepen their self-understanding. Empathic listening also creates a sense of closeness as participants learn more about each other's experiences and internal worlds.
Why the growing interest in PRT and other art museum-based activities within medical education?
There is evidence that arts-based education improves qualities and skills important for clinicians, including identification of diagnostic features on radiography, tolerance of ambiguity, reflective ability, awareness of biases, empathy, emotional recognition, and connections with patients. It may also help healthcare professionals deal more effectively with burnout. It may assist medical students, "who are often taught that illness is a problem to be solved through objective means, denying the emotional experience of professional practicem," engage in healthy emotional processing. It may open "new cross-cultural conversational doors" and pave the way for mutually edifying learning, which is crucial in helping learners better understand new or diverging perspectives. And it may enhance among medical learners "observation, communication, critical thinking, ethical reasoning and the ability to think creatively."
Not a frequent visitor of museums, I saw how art gave me the special opportunity to connect more deeply with myself and my peers. Ray Williams describes the PRT as
"'a strategy for serving the public hunger for connection' … works of art are seen to matter as manifestations of human experience, aspirations, and wisdom. Members of a group come to… [learn] how they might offer support to a friend or colleague, gathering the seeds of future conversations. … All it takes is the invitation—and a sense of safety."