Takeaway
Decision-fatigue may occur during a medical career. Engaging in a creative hobby with no end-goal may be an effective antidote.
"Bright New Thing" is a collage I made during the pandemic. When I created it, I was feeling overwhelmed with decision-fatigue. I was juggling research, scholarship applications, and school, constantly prioritizing and reprioritizing. The whole time, I was staring at an ever-growing tower of "Harper's Bazaar."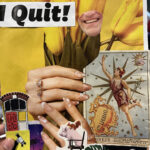 I made this collage with no plan, just creating for the sake of creating. I wanted to try a new art form that I didn't expect to be good at and I felt free to experiment. I put teeth on flowers because it made me laugh and cut a hole in a door because it struck me as interesting.  
Pre-meds are always making important decisions: What major should I choose? Where should I apply? When should I take the MCAT? Taking the time to create without an end-goal in mind can relieve decision fatigue. While "Bright New Thing" isn't my magnum opus, I enjoyed the time I spent making it. And the stack of magazines on my coffee table is a little shorter. 
This piece expresses the views solely of the author. It does not necessarily represent the views of any organization, including Johns Hopkins Medicine.