Takeaway
My undergraduate neurology mentor showed me how to view patients as teachers. I know I'll take this valuable lesson with me throughout my medical education and training.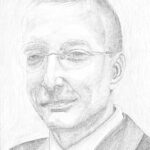 What do you get for someone who has everything? I mulled this question over while looking for a gift for my mentor in neurology. I wanted to get him something meaningful, but he had every neuroscience gift I could think of: neuron-shaped plushies, silver serotonin jewelry, even a set of coasters made of horizontal cuts of a brain.  
Mentors can serve as teachers, sources of support, or role models, and my mentor was all three of these. As my PI, he helped me develop my clinical research skills. As one of my biggest supporters, he wrote me a strong letter of recommendation to study abroad. And most importantly, as a role model, he taught me valuable lessons about medicine: he showed me how to be flexible in a rigid system, that wearing many hats is often a good thing, and how to view patients as teachers. I wanted to give a gift as enduring as his lessons.  
I drew and erased and drew and erased until I felt like I had made something that represented him. When I finally gave him his portrait, I was overjoyed to see that he was happy with it, pointing out the little details that I got right. I was even more thrilled to see it hanging in his office a few weeks later. Making this portrait was a perfect opportunity to dust off my drawing skills and put them to good use: by making someone important to me smile.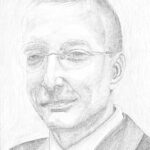 This piece expresses the views solely of the author. It does not necessarily represent the views of any organization, including Johns Hopkins Medicine.