Takeaway
White educators and learners must commit to doing the work and educating themselves on how to be antiracist. Black colleagues should not be responsible for educating those around them.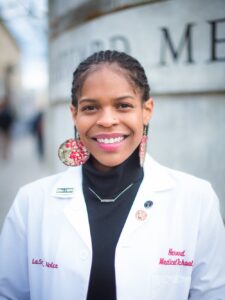 I never thought I'd see the day Juneteenth was recognized as a paid holiday by Harvard University, or see "systemic racism" boldly written in letters by leaders across the nation. Civil rights activist, Dr. Angela Davis, described this moment as "extraordinary"—I couldn't agree more.
The strength of my Black ancestors—their blood, tears, and triumph—permeates the air and it feels like their power has given the world new energy. This energy has always been present, but it seems like the world is finally ready to absorb it, alongside the many lessons my ancestors have tried for centuries to teach us. Though I've only been in this world twenty-five years, I've never felt anything quite like this and I know it's special. The thick suffocating fog of systemic and interpersonal racism is finally being exposed in academic and professional worlds. Though its deleterious contents still fill the atmosphere, I feel like I can breathe easier, my tongue no longer tied by constraints of professionalism.
It breaks my heart that so many Black breaths had to be stolen in order for our society to finally consider the value of Black lives and our history. The tragic deaths of Ahmaud, Breonna (who's killers still roam free and must be brought to justice), George, Tony, Rayshard, Robert, and Oluwatoyin, represent a fraction of the many Black lives prematurely snatched from their families by racism every day for centuries. It took far too long for America and its institutions to value their humanity, but now that we're on the precipice of change we must ensure their lost breaths are not taken for granted.
We must be better, we must do better, because Black patients and our communities deserve better. The work has to start within ourselves and within our organizations—that means the medical institution's reckoning with its complicity in anti-Black racism at all levels. This work must go beyond letters of support and eight minutes of kneeling and into the walls of our hospitals and clinics. And it's imperative this work includes the protection of medical trainees who often find themselves at the lowest rungs of the academic medicine hierarchy.
Right now, medical educators across the country are seeking answers to learn how to best support Black medical students during this time. We can start supporting Black medical students today by making tangible changes without the need to wait for formal anti-racist policies to be developed by institutions.
I don't have all the answers and I don't represent the voice of all Black medical trainees. But I can offer some suggestions that I've found helpful in my personal experience, and encourage all people who aren't Black to consider the below. This advice should only guide and supplement conversations about antiracism, and not substitute the listening required to hear the unique concerns of Black trainees at each different institution.
1. Do the work, don't ask us to do it for you.
If you're struggling with guilt in the realization of your complicity in racism, don't reach out to Black colleagues for readings and advice on how you can do better if you haven't done your own homework first. There are plenty of resources online that can help you work through this process, and it shouldn't be an additional burden on Black trainees. If you do reach out for help in your journey to become an antiracist, it's important to create space for open and honest dialogue. Don't get defensive, be willing to listen, and don't focus the conversation on your own feelings.
2. The work starts within our hospitals, clinics, and classrooms.
Look around the spaces you work and teach in. Who's on the walls? Who are the namesakes of societies, professorships, and buildings? Were they racist? Examine your presentations. Are you only showing rashes and physical exam signs on white skin? Would you know how to recognize it in darker skin? If the answers to any of these questions are "yes," do the work yourself and don't expect Black colleagues to do it for you.
3. If you're going to ask us to do the work, compensate us. If you're going to benefit from the work, uplift us.
Unfortunately, academic medicine has a trend of asking Black teachers and trainees to do the work of liberating everyone from oppressive spaces. We're often asked to lead task forces, spearhead curricular reform, and plan conferences and events without opportunities to publish or receive adequate compensation for our work. This often takes away from our studies, research opportunities, and overall career advancement, only for our institutions to benefit from our unpaid labor. This is wrong and must be addressed moving forward. If Black teachers and trainees are asked to lead antiracist efforts, advocate for their compensation through stipends, scholarships, and/or class credit. Additionally, if you are going to publish papers on antiracism, please be sure to uplift the work of colleagues who have been working on these issues.