Takeaway
Demystifying psychiatry for patients is the heart of my work. In its existential aspects, psychotherapy calls for the imagination of alternative possibilities.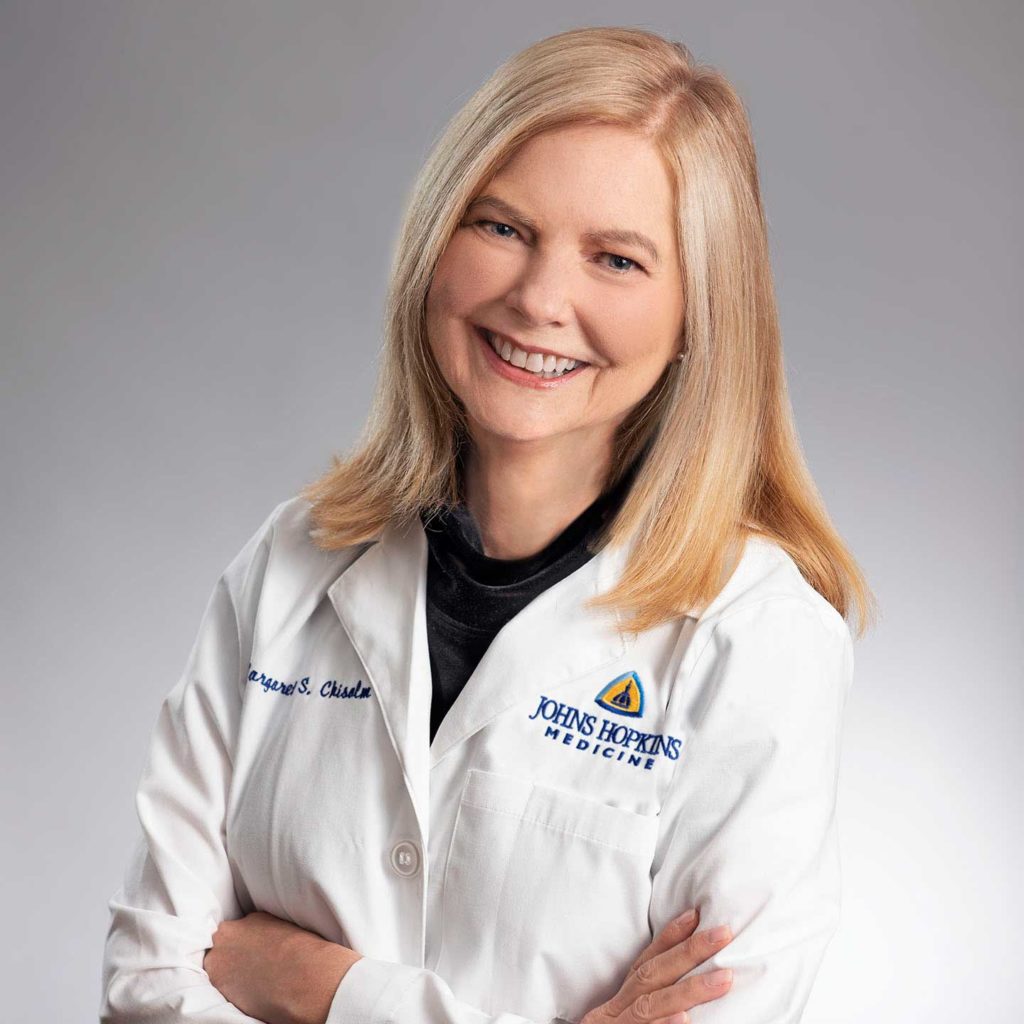 Serving others
My career path has been non-traditional, but my mission and values as a psychiatrist emerge from the traditions of medicine and religion. Although I studied visual arts in college I was drawn to the challenge and meaning of a career serving others.
Understanding patients
During residency at Hopkins, I was trained in a psychiatry that recognizes that similar distressful mental symptoms can emerge from several different sources, and that psychiatric disorders fall into distinct families. This approach to psychiatry is aimed less at addressing diagnoses or classification and more on understanding patients better and making treatment more whole. It also removes a great deal of mystery from the discipline, for patients and physicians.
Supporting the broader community
After residency, while raising my family, I used this visionary clinical approach to treat students at the Homewood campus and individuals from the broader community in my private practice. Throughout this time, I was an active member of the part-time faculty at Hopkins and continued to teach Hopkins psychiatry residents. As my family's needs waned, I returned to academics, where I now enjoy an expanded role combining clinical care, teaching, and scholarship–including co-authoring one book for clinicians, Systematic Psychiatric Evaluation: A Step-by-Step Guide to Applying The Perspectives of Psychiatry, and working on a new book for patients and their families on how one can flourish despite psychiatric illness.
Demystifying psychiatry 
Demystifying psychiatry for patients has been the heart of my professional activity for over 25 years. My clinical experience, shared by other psychiatrists trained in this method, has shown patients appreciate learning about the group of conditions to which their problem belongs.
For patients, this dispels much of the mystery surrounding their disorder and helps them forge the therapeutic relationship needed for a shared effort to overcome their condition. This approach is not foreign to the rest of medicine, which has demonstrated that medical patients gain from learning what type of illness–infectious, metabolic, etc., explains their symptoms.
Practicing and teaching psychotherapy
Another important aspect of my mission to demystify psychiatry centers around the practice and teaching of psychotherapy. Although the term psychotherapy evokes the idea of an incisive intervention, psychotherapy is fundamentally different from any procedure found in medicine or surgery aimed at curing a disrupted body. Psychotherapy does not aim to cure the body or even the brain– it aims to persuade a person in distress to think and behave differently. It is a method, common in some form to all cultures, which addresses human mental problems.
One of my mentors, the late Dr. Jerome Frank, was a psychiatrist and an esteemed scientific investigator of psychotherapy. By studying therapies that succeeded and failed, he was able to define several characteristics common to all successful therapies. In addition, he found that patients seek psychotherapy for reassurance, hope, and support, much as they did in the past from the clergy. Frank concluded, in his book of the same title, that psychotherapy–at its core–is simply Persuasion and Healing. The practice and teaching of this powerful and timeless treatment, often used in conjunction with newer pharmacologic therapies, is a central part of my mission as a psychiatrist.
As a member of the full-time faculty, I have had the opportunity to extend this passion for teaching the art of psychotherapy to a greater and more diverse group of psychiatry trainees, and via the casebook will be able to reach an even broader audience of caregivers. My ultimate aim is to write a book demystifying psychiatry and psychotherapy for patients and general public.
A mission of hope
Psychiatry rests on the borders of medicine, religion, narrative and philosophy. In its existential aspects, psychotherapy calls for the imagination of alternative possibilities. This mission of hope has wide applicability to all patients seeking relief from suffering. We live in a time when managed care bureaucracy and technologic innovation have the potential to overshadow the personal dimension of medicine. It is essential to convey to patients, caregivers and the larger society, the crucial role psychiatry and psychotherapy has to play in health care.