Takeaway
Caring for very sick patients during the pandemic can help you to reconnect with the meaning and purpose of medicine. Sign up to serve if the opportunity presents itself.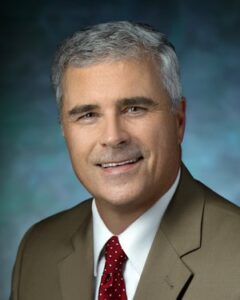 As I stood outside the biocontainment COVID ICU wearing scrubs and an N95 mask, my mind drifted back to Army Airborne training when I was a cadet at West Point. "Stand in the door," is a command ingrained in paratroopers. It directs the first soldier in line to get in position in the open door of the aircraft before leading others to jump into the sky. Now, years later, as an orthopedic surgeon, with a respirator instead of a parachute, I was standing in another door.
Answering the call
A few months ago, I opened an email that read "NEEDED: COVID ICU VOLUNTEERS."  It was a request for faculty physicians to redeploy for a 24-day rotation assisting intensive care colleagues with the treatment of seriously ill coronavirus patients. At the time, my orthopedic practice volume was relatively light, as routine appointments and elective surgeries were on hold due to the pandemic. I signed up, was accepted for redeployment, and was about to start my first shift as a COVID ICU bedside clinician.
Basic training
When I entered the unit, the staff was immersed in caring for patients, their faces shielded by PPE. I didn't know anyone and felt like an outsider. Thankfully, everyone was welcoming. I was quickly assimilated into my new team and off on my first ICU rounds since I was an intern.
One might think it could be an ego-buster for an attending orthopedic surgeon to now be an ICU newbie. Not in the least. I was eager to learn and take direction from experienced attending pulmonologists, fellows, residents, interns, and advanced practice providers. I listened, asked questions, and watched online educational materials prepared specifically for non-ICU clinicians. I began speaking an entirely new dialect of the medical language—PaO2 to FiO2 ratios, permissive hypercapnia, and intrinsic PEEP. Although the rotation with 12-hour day and night shifts was tiring, I was excited to report to work.
Duties of a redeployed clinician
My new ICU colleagues expressed appreciation for my efforts. However, I'm under no illusion that my role was anything other than a supporting one. I performed H and Ps, checked lab values, and updated the family members of our patients by phone. Still, it was an honor to be there, and a privilege to be part of a dedicated team that was providing cutting edge COVID ICU care.
Pride in profession
The rotation made me proud to be a member of a global medical profession that has performed so courageously throughout this pandemic. Although I began the redeployment with some trepidation, I'm glad I jumped. I'd do it again.
 Here are three things to consider when asked to redeploy:
1. Motivation to learn and participate can help ease the transition.
2. It may seem daunting, but remember that you'll receive guidance from experienced team members.
3. The experience caring for very sick patients during the pandemic can increase your joy and pride in medicine.
Acknowledgment: The analogy of military parachuting to COVID-19 care was provided by Dr. James Ficke, a fellow Army veteran and orthopedic surgeon.