Takeaway
If you look at your patients as you would a piece of art in a museum, you will notice many details that would otherwise be missed.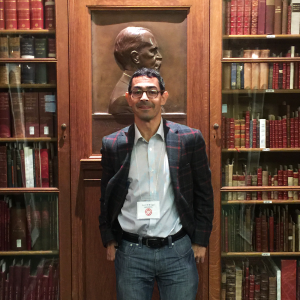 Umbrella in hand, strolling through London's Tate museum, I was delighted to encounter Sir Luke Fildes' painting The Doctor. I had seen this picture in the presentations of so many teachers lecturing about caring and compassion over the years.
In my previous post, I mentioned that not all medical trainees appreciate or understand the value of teaching that is focused on the humanities, and I shared how reading fiction has helped me in patient care.
When serving as an attending on the medical wards, one morning early in the rotation, I always have my team look at a few pieces of art before rounding to see our patients. I have learned this practice from my teachers and colleagues, and I am aware of curricular outings in many cities that bring healthcare trainees to museums. At least one of the images that I usually share is a Jackson Pollock abstract painting. The team is encouraged to comment on all of the nuances that they see in the art that we review together.
After purposefully being observant with art, we embark on seeing our patients. When coming out of every patient's room, each team member has to describe two things that they observed that they had not noticed on previous encounters with the patient. After seeing a few patients and noticing so many new details, I explicitly comment that our eyes are exquisitely sensitive and underused in caring for patients.
For those wanting more practice and evidence related to observation skills, I refer them to Herman's book, Visual Intelligence.